WHO WE ARE
Welcome to the SympatMe Family! We are more than just a brand; we are your trusted companion throughout your entire journey in Germany. Whether you're planning to move to Germany, have just arrived, are currently living here, or even considering leaving in the future, rest assured, we've got you covered every step of the way.
Simplifying Your Journey in Germany
100%
Expat Services
At SympatMe, we firmly believe that language should never be a barrier to a fulfilling experience in a new country. Our mission is simple yet profound: to give foreigners in Germany the essential resources they need to conquer the bureaucratic maze and settle in with ease. We are committed to helping you embrace this new chapter in your life without unnecessary stress and uncertainty.
OUR PROJECTS
---
Moving to Germany with Expats.de
With Expats.com, you have the choice of doing your tasks yourself or calling on the expertise of professionals. Whether you prefer to take matters into your own hands or need assistance, we have it all for you.
Expats.de has been around for 8 years and has always supported professionals on their way to Germany. Recently, we have improved and completely redesigned the site and relaunched it in July 2023. We are proud to say that with the new site, we can offer an enhanced and modern user experience.
Our goal is to support people who move to Germany with all their hurdles. From applying for a visa and finding an apartment to applying for a social security number, opening a bank account, taking out health insurance and much more, we offer you comprehensive support during your stay in Germany.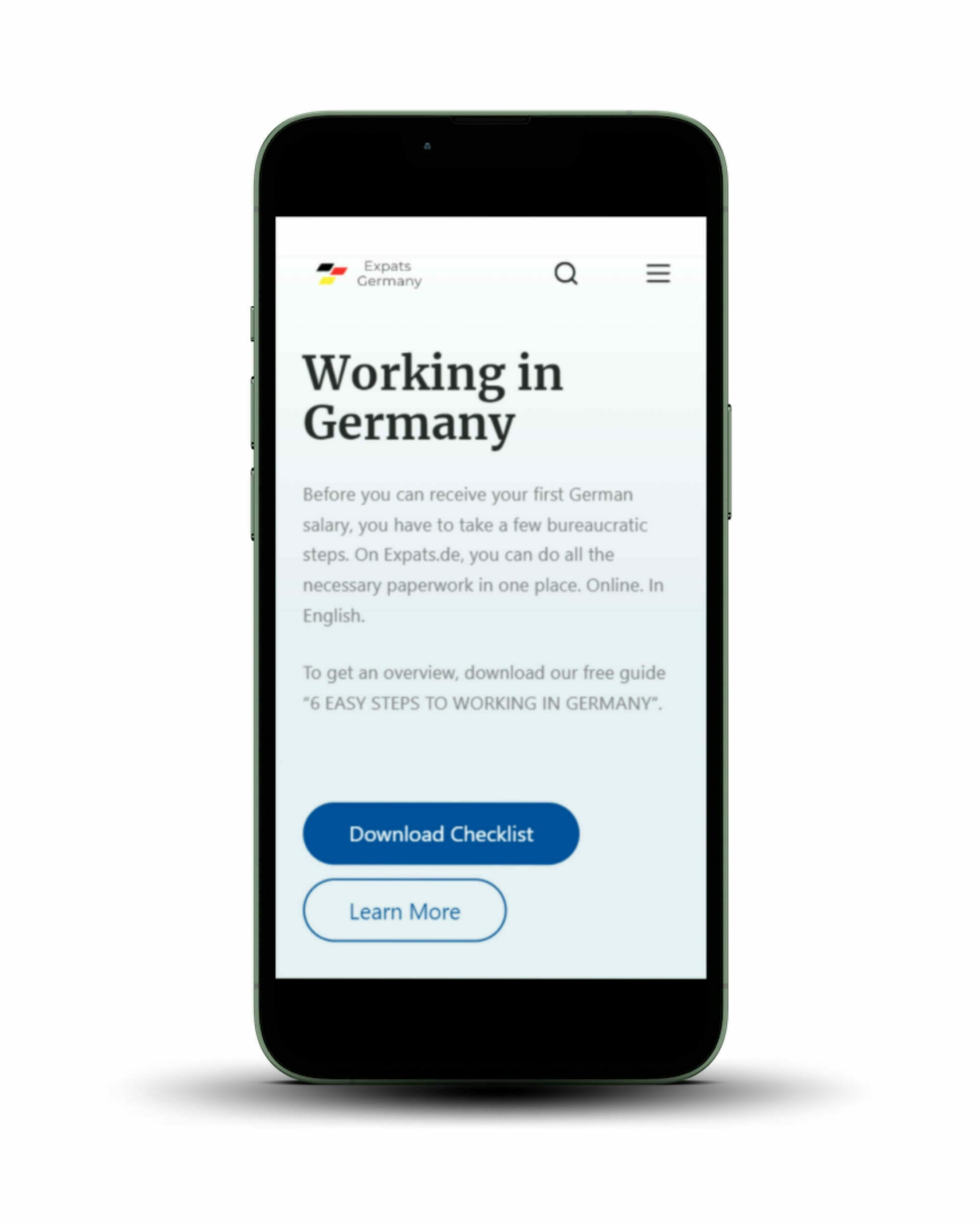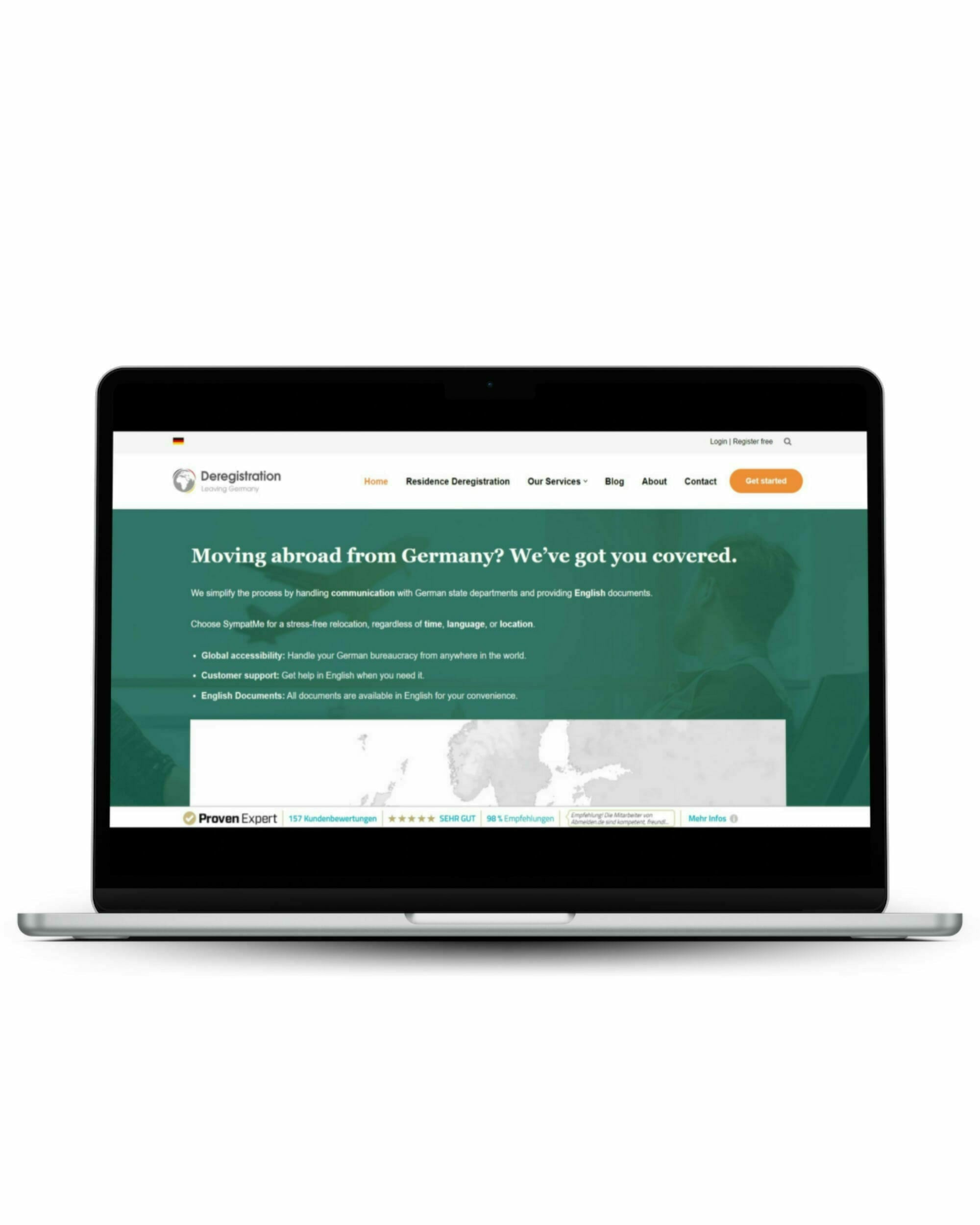 Leaving Germany with Deregistration.de
The Deregistration.de website has been serving its users for several years. In 2022, we underwent a complete revamp and relaunched the platform in July 2022. Since then, we have experienced continuous growth in traffic. Our focus has been on providing new and enhanced services to assist individuals with all bureaucratic procedures involved in emigrating from Germany.
For our valued customers, we take care of essential tasks such as residence deregistration, contract cancellations (including health insurance, child benefits, and broadcasting fees), setting up mail forwarding, and registering vehicles, among other services. What sets us apart is our commitment to providing a seamless digital experience that is location-independent.
In 2022, we also launched a dedicated platform, Abmelden.de, catering to our German customers. This independent German platform offers the same comprehensive support in navigating bureaucratic hurdles.
Refund your pension with Fundsback.org
Did you know that some individuals who have worked in Germany and then leave the country are entitled to get their pension paid out before reaching retirement age? However, navigating through the highly bureaucratic and time-consuming procedures can be a challenge. This is where Fundsback.org comes to your aid.
In spring 2023, we proudly took over Fundsback.org to streamline and simplify this process for you. On our platform, you can effortlessly check the amount of pension you are eligible to receive and determine if you qualify for a refund. Our team, including an expert lawyer in this field, is here to provide full support in the application process, ensuring you receive the potentially generous sums you are owed.
Through thorough translation and automation, we have made this intricate process accessible to our English-speaking customers, empowering you to claim what rightfully belongs to you. Let Fundsback.org be your trusted ally in securing your pension payout efficiently and effectively.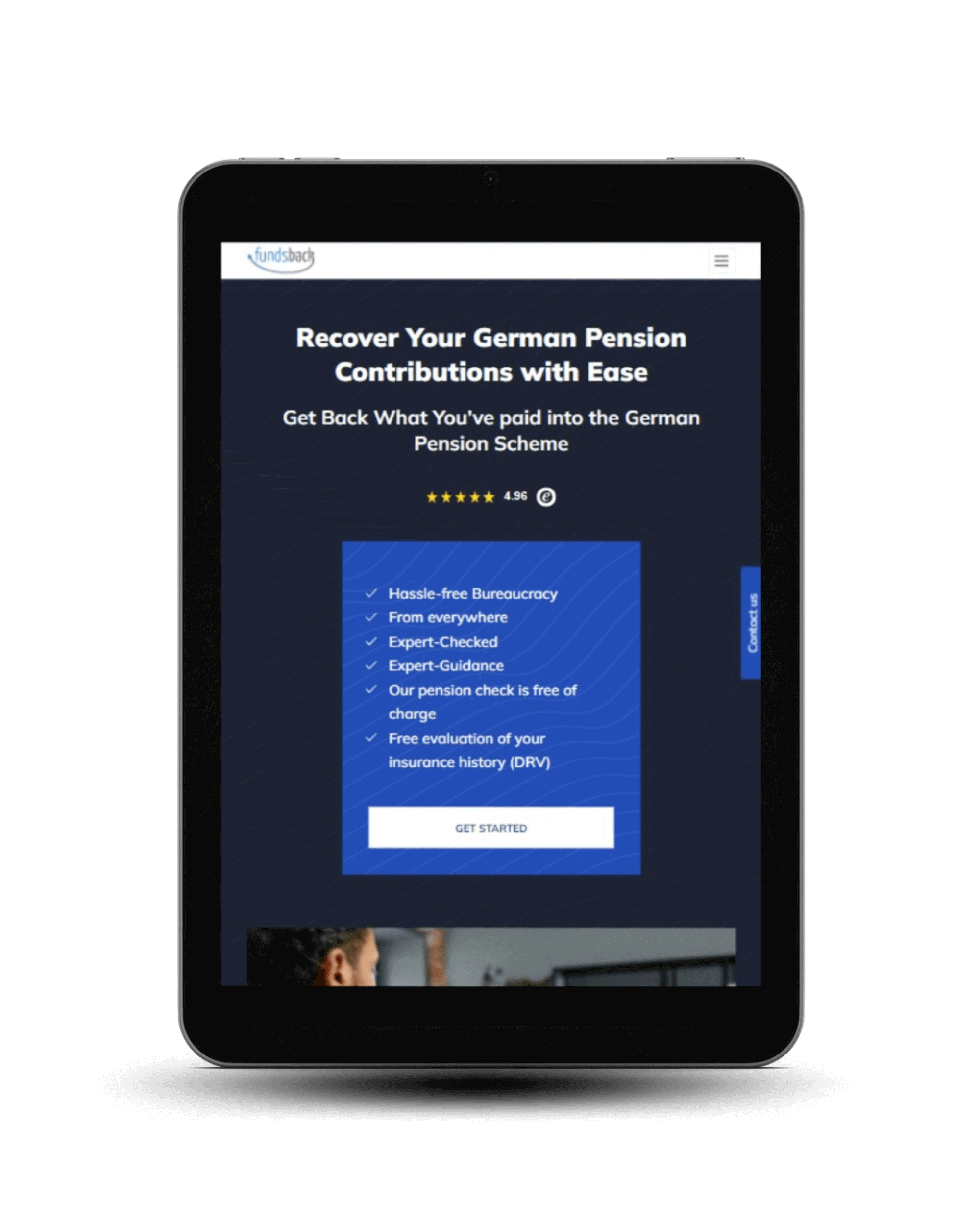 CONTACT US
PGlmcmFtZQoJCQkJCQl0aXRsZT0iRW1iZWRkZWQgY29udGVudCBmcm9tIEdvb2dsZSBNYXBzIFBsYXRmb3JtLiIKCQkJCQkJc3JjPSJodHRwczovL21hcHMuZ29vZ2xlLmNvbS9tYXBzP3E9QWxtc3RhZHRzdHIgMTAxMTkgQmVybGluJiMwMzg7dD0mIzAzODt6PTExJiMwMzg7aWU9VVRGOCYjMDM4O291dHB1dD1lbWJlZCIKCQkJCQkJc3R5bGU9ImJvcmRlcjowO3dpZHRoOjEwMCU7bWF4LXdpZHRoOm5vbmU7bWF4LWhlaWdodDpub25lO2hlaWdodDoxMDAlOyIKCQkJCQkJYXJpYS1oaWRkZW49ImZhbHNlIgoJCQkJCQl0YWJJbmRleD0iMCIKCQkJCQkJYWxsb3dmdWxsc2NyZWVuCgkJCQkJCWxvYWRpbmc9ImxhenkiCgkJCQkJCWZyYW1lQm9yZGVyPSIwIgoJCQkJCT48L2lmcmFtZT4=